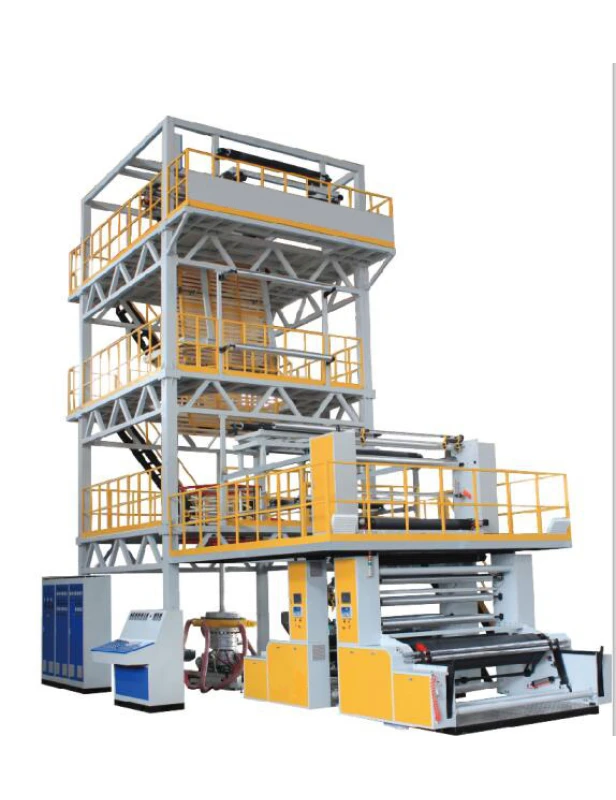 Biodegradable Mulch Film Blowing Machine
DC-Z50X30X2+65X30X1-1600mm
3 layers high speed Plastic co-extrusion Film Blowing Line
B
iodegradable
M
ulch
F
ilm
B
lowing
M
achine
3 layers high speed Plastic co-extrusion Film Blowing Line
DC
-Z50X30X2+65X30X1-1600mm
Ⅰ.Feature
Valid film lay flat width:

600~1300

mm

Film thickness: the best scope

0.0

3

~0.

15

mm

Raw materials: LDPE; LLDPE; HDPE ;MLLDPE ,and EVA ;

The structure of film:

ABC;

Film tolerance: ≤±

7

%(when the thickness is 0.07mm)

Output: about:

10

0

-160

kg/h

, depending on resin and product dimensions

Extrusion output:

31

0

kg/h

the total power capacity:

155

KW ,

380V/50HZ

Line outer dimensions: 1

1

500x

5

500x

92

00mm (L x W x H)

The weight of machine: 2

2

000kg

Painting :first wash and clean and polish smooth,
Second anti rusty painting, paint final color twice
Ⅱ.Extruder: (
3
Sets)
Screw

Diameter:

50

mm;

65

mm;

50

mm;

L/D ratio: 30:1

Structure: separating, barrier and mixing

Material: 38CrMoA1A,

Heating treatment: forging, heat treatment and

nitrification

, bimetallic;

Barrel
a. Hole diameter:
50
mm;
65
mm;
50
mm;
b.Material: 38CrMoA1A,
C.Heating treatment: forging, heat treatment and inner hole
nitrification
, bimetallic
Max. screw rotating speed: 1

1

0r/min

Forced water chilling for feed section of barrel, adopted

ceramic heater

 with inner cooling structure for transmission, measure and mixing sections.

Barrel heating zone:

three/

four zones

Barrel cooling blower:

240x3sets/37

0Wx

4

sets

/240x3sets

Gear box,

 JY

173

/

225

/

173

#

Gear type: standard involute cylindrical skew wheel

Material for gear: 20CrMnTi, through high frequency quenched treated and precise grinding.

Lubrication wary: forced all cycle lubrication

Cooling way: force water cycle cooling for oil temperature

Oil filtering way: disassemble outside oil filter with cooler

Extruder main motor:

22KW

/

37KW

/

22KW

;

SIEMENSE

brand

controlled by

EURA

 inverter
1.10The max. extrusion of ¢
65
mm is
13
0kg/h
;
The max. extrusion of ¢
50
mm is
9
0kg/h
;
1.11 Stainless hopper:
75
kg/p
2、Screen changer:
3
 set
s
With domestic melt pressure and temperature sensor before changer,

3

 set

s
3、
Die head(IBC system) & Chiller: 1 set
Introduced advanced technology from Germany,designed by CAD,use imported German TC2.8K four-axis simultaneous machining center to produce spiral die.The die will be with features of high precision,good finish and no deformation.
3.1 Basic Structure:
3
 layer spiral type
3.2 Die Material: All made of 40Cr alloy steel.Through forging, heat treatment , processed in 5 axis machining center ,then applying advanced polishing technology to make the dies surface as smooth as mirror. To ensure the flow channel evenly distribute materials and make sure that there is no stagnation area in the products, dies are further processed by non-electrolytic nickel plating, wear resistance and corrosion resistance of the dies are also enhanced.  
3.3 Diameter: Ф
25
0~
32
0mm.
3.4 Cold state die clearance: 2.
4
mm
3.5 dual display automatic temperature control
3.6 Heater: cast aluminum heater
Heavy loading trolley frame to fix die
 Lifting unit for air ring, die ring die mandrel
IBC system

 

(Optional parts)
  IBC (ultrasonic closed-loop servo-control) system consists of gas exchange device, internal cooling air ring, in and out air blower , signal detection and control circuits, etc... The system not only can rapidly cooling bubble, exhaust inner heat, water molecules and emissions of bubble,but also can supply new cooling air , lower the inner temperature of
the bubble, increase the output and improve the mechanical properties of films and so on.
3.8-1Bubble Internal Cooling Gas Exchange Device: One set
3.8-2Bubble Internal Cooling Control System: Mitsubishi PLC control system
3.8-3 Bubble Detection Sensor: Three sets, ultrasound detection sensor,
from Germany P + F,
3.8-4Inlet and outlet air blower: 2 sets ,
7
.5KW centrifugal blower ,
control by
EURA
frequency converter.
Chiller 1 set

  

(Optional parts)
3.9-1 Cold water machine + cooler exchanger 2 sets
3.9-2 cooling capacity :49966Kcal/h (58.1Kw)
3.9-3 Compressor power :
8.96*2KW
3.9-4
Temperature control range:5℃-35℃
3.9-5
voltage:3PH~380V   50HZ
3.9-6 refrigerant :R22
3.9-7
In-out water:2"(inch)
3.9-8
Condenser type: efficient finned tube type
3.9-9
Evaporator types: efficient coil type
3.9.10 Water chillers main configuration list
| | | | |
| --- | --- | --- | --- |
| Serial | name | brand | origin |
| 1 | compressor | Danfoss | The Danish |
| 2 | Electrical components | SCHNEIDER | France |
| 3 | pump | YL | Taiwan   |
| 4 | evaporator | DANNICE | shenzhen |
| 5 | condenser | DANNICE | shenzhen |
| 7 | Pressure controller | FENGSHEN | Taiwan |
| 9 | Oil type pressure gauge | HONGSEN | Taiwan |
| 11 | temperature controller | Bangpu | Taiwan    |
| 12 | Expansion valve | EMERSON/ALOO | The United States |
| 13 | Hand valve | FUGUO | Taiwan   |
Precision dual lip

automatic

air ring: 1 set
4.1 Structure: the out air orifice be adjusted according to the processing
Material: cast aluminum

Blower power:

 

11

kw, 1 set, controlled by

EURA

 inverter.
Ⅲ.Take off unit and -oscillating rotating system &EPC system
5、Traction system reverses horizontally for ± 360 °, to ensure that the film maintains a constant linear velocity. The driven system, collapsing unit, traction devices and film rotating device are moving relatively to the bubble at the speed of 0. 1 - 0. 3r / min for ± 360 °, so that the thickness deviation caused by die, the air ring and the tower frame is distributed at random, which ensures that the high-quality film are rolled at the winder.
(Optional parts)
Traction Frame: three layer, square integrated structure
5.2 Structure Type: horizontally ± 360 ° rotary
5.3 Rotary Motor: Dragged by 550W motor and, Frequency Adjusted b
y frequency converter
5.4 Motor of Upper Traction:
1.5
KW,frequency brand
5.5 V-shaped Device: Adopts aluminum alloy guide roll V-shaped plate, which synchronously rotating with upper rotation device.
5.6
Corrective Device (EPC system):
 Ultrasonic sensing detection correction, ensured the accuracy of detection
5.7 Under Traction Device:
pneumatic-operated clamping device with two rollers,
traction motor power
1.5
KW
,
Control system is
EURA
 frequency .
5.8 Bubble Stabilized Frame: cage type bubble stabilized frame, one set
Bubble cage controlled by electric motor drive, retractable roller is bent with turning point type and with material aluminum fluorine coated so that not stick and break the film.
Corona 1 set

 

(Optional parts)
The detail information of corona
Input voltage and frequency

AC 380V ,50Hz ,3-phase (or to buyer's inquire, like AC440v)

Output voltage

15kv

Output power

6

KW

Operating frequency

15~40KHz

Humidity condition

-10℃--+40℃

The efficiency

>95%

It adopts the imported driver circuit and use the Siemens module as the IGBT in the main loop.

It locks the operating frequency automatically. It has the function of soft-start, which can reduce the pollution to the net.

It has kinds of protection such as phase absence, phase error, over voltage and short circuit protection.

Short circuit electronic protection on inverter power modules

Electronic protection against any short circuits at the high voltage output.

Push Button Front Panel Controls (the operating time is longer than digital display)of Treatment Power.

Panel is compact and light weight

Zero speed / Short Ckt. Trip with Audio/ Visual Alarm
The electrode rack
The model of the electrode rack

Totally enclosed type

The line speed

30-35m/min for blown film line

The material of the roll

AL.

The film width

1

5

00mm

The corona roll width

1600

mm

The diameter of corona treater

8

0mm

Materials to be treated

PE

No. of treating side

2

Film type

PE for blown film line

Treatment level requested

At least 38-40dyne on film

The model of the blade electrode

aluminium alloy

The protections of stop-running and rack-opening prevent the roller from burning

The electrode rack can be opened through a pneumatic system to facilitate the threading up of the film when starting with the production.

All of the rolls have already treated with dynamic and static balance.

Gap regulation system, once the electrode has been aligned, there is the possibility to set the right gap.
6、Tower
6.1 Inner platform and inclined ladder are assembled with safe banister
6.2 A group of aluminum alloy guiding roll
6.3
A group of curved spreaded roll
Ⅳ.Winding unit
 Winding unit (automatic winder)
7. Winder: 1 set
 (automatic winder)
7.1. Winding mode: surface friction
back to back double
automatic winder
 ,
controlled by
EURA
 inverter
              Cutting film and change the roller by automatic;
              The cylinder equipped the PAIKE brand
              All the winder control system in PLC
              1 sets automatic tension controll
(Optional parts)
7.2. Winding motor power:
1.5
kw
7.3Max. film width:1
5
00mm
7.4Max. reel width: 800mm
7.5Max. winding speed: 60m/min
7.6Winder shaft: 3 inch x
 5 pieces
7.7the width of roller is
1600
mm
7.8the open knifes 2sets
7.9the slitting knife 3sets
7.10 Recycle waste film system on line
The recycle system on line detail information as below
Film recycling machine
Crush motor:  1.5 [HP]
Turning diameter:  130mm
Length of knife[mm]:  123
Knife material :  Tungsten steel
Fixed qty of knifes[PC/set]:  2
Qty of turning knife[PC/set]:  3
Mesh size[mm]:  3-5
Windmill motor:  2[HP]
Screw motor:  1/2HP
Cyclone separator[mm]:  300
Working capacity[kg/hr]:  15-30
Packing size L*W*H(M):   1.1*0.9*0.8M
Weight [KGS]:   180KGS
Hopper type conveying screw
Ⅴ
.
Electrical Control System
The main motor choose
SIEMENSE
 brand
 motor
The inverter adopt the
EURA
brand
The PLC choose SIEMENS brand
The contact and relay and switch adopt the
Schneider
 brand
The temp.controller adopt the
Omron
brand
The SSR choose the
Omron brand
The bearing of winder and haul-off roll adopt
L
K
 brand
The cylinder for winder fly knife choose PAIKE brand
Ⅵ
.The working situation of machine:
U

the power :three phase ,four wire

380V(-5%,+5%),50Hz

(2)

The total power

About

155

KW   

(3).

The recycle cooling water,temperature: ≤20℃,

About 60

㎥

   ≥0.3Mpa

(4.)

Air compressor:

>0.5Mpa

(5.)

place

In factory without surround wind

(6.)

The temperature of factory

0-35℃
Ⅶ. The spare parts:
(1) The heater for extruder: 4 pieces (different types)
(2) The heater for screen changer: 4 pieces
(3) The heater for die head: 2 pieces
(4) 5 pieces K style thermocouple
 (5) The air cock for air shaft: 2piece,
 (6) The cable and the gas circuit of the machine
THE PICTURE FOR YOU REFERENCE
  IBC SYSTEM (INNER BUBBLE COOLING SYSTEM)
AIR CHILLER AND AIR EXCHANGER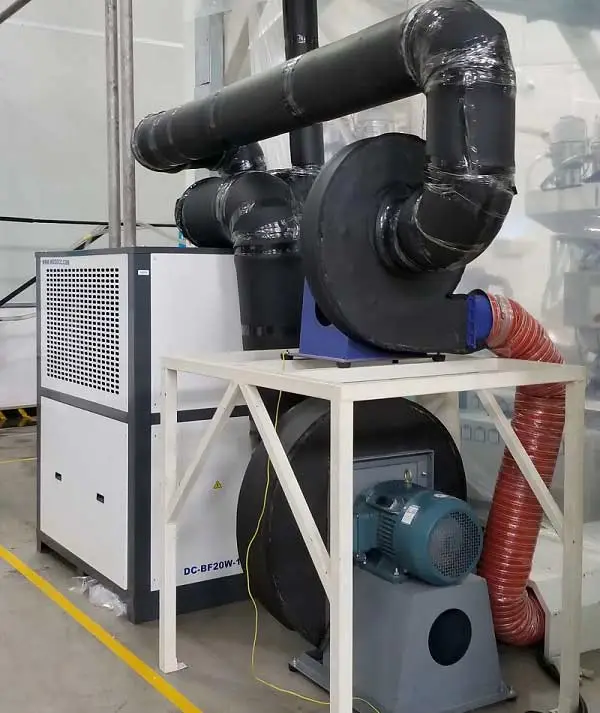 OSCILLATING SYSTEM AND EPC SYSTEM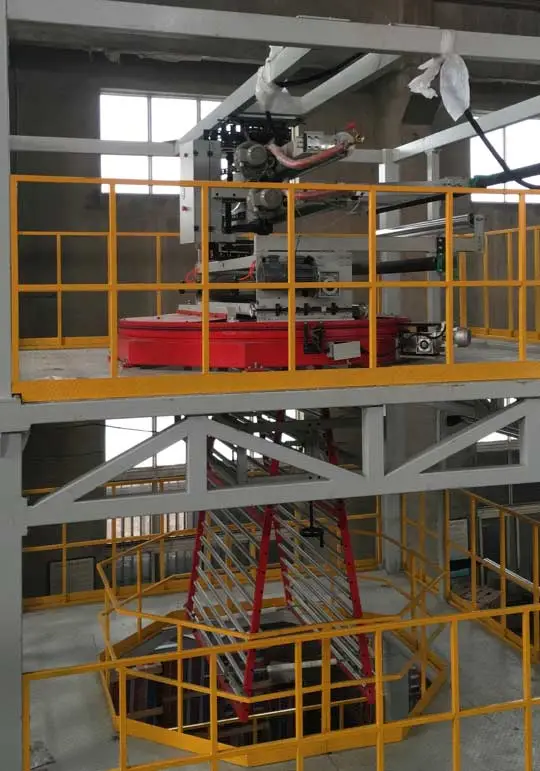 Automatic deviation correction system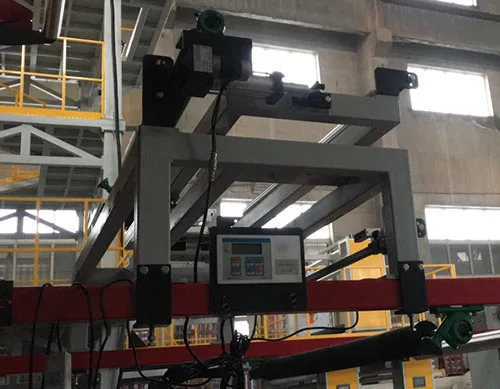 Corona treater