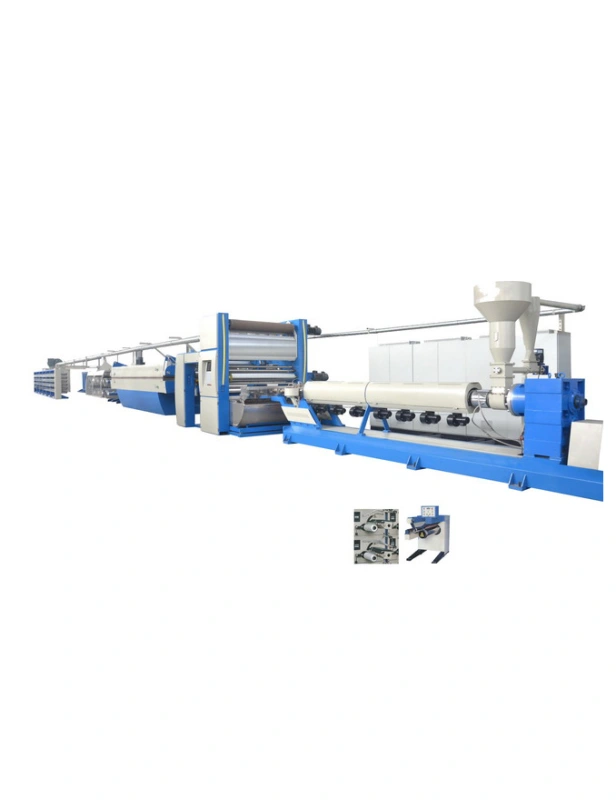 High-Speed Flat Yarn Extrusion Line
The Flat Yarn Extrusion Line benefits from a compact structure, a beautiful appearance, stable operation, flexible and reliable control, precision manufacturing engineering, easy operation, and reliable production.
High-Speed Flat Yarn Extrusion Line
Extrusion Line for Flat Yarn It can be heated, squeezed, and stretched to make a flat yarn extrusion line out of polypropylene and high-density polyethylene, which can then be rolled and used for weaving on a round loom.
A microprocessor and a frequency conversion governor control the PP flat yarn drawing machine. On the basis of absorbing international advanced technology, the setting and display of technical data can be completely digitized.
The length-to-diameter ratio was increased; a new type of separation screw was used; the mixing zone on the extruder screw pot was widened; and the extruder screw and barrel were made of 38CrMoA1A alloy steel. The hardness after nitriding treatment is greater than HV950, the plasticizing effect is good, and the energy consumption is low.
Helical gear reducer made of 20CrMnTi alloy steel, 45# medium carbon steel gear and sprocket, and high frequency quenching treatment The driving roller is hard chrome-plated, and the driving unit is self-controlled by winding roller tension. Extruder cylinders, pressure cylinders, and molds are long-lasting cast aluminum heaters.
Stretch film lines use an advanced automatic belt changing filter in their belt changing filter system. The baking sheet has been transformed into an advanced, hot pull-out oven. The winding machine has a no-friction drive, constant tension winding, and high quality fiber drum forming.
Main Technical parameters
ZD SERIES (High Speed)

extrusion
volume
Driving
power of
extruder
Screw
diameter
Ratio
of L/D
Revolution
n of screw
Die lip
width
Max
production
speed

Flat thread
fibre scope
Drawing
ratio
Number
of winder
(Spindles)
System
installed
Capacity
System normal
operational
capacity
Overall dimensions
(LxWxH)
Weight
(kg)

ZD-SPL-70/33/850

180kg/h

45kw

70mm

33:1

20-120r/min

850m/min

280m/min

60-200tex

4-10

144★

240kw

128kw

2700x3700x2800

21000

ZD-SPL-90/33/1000

280kg/h

90kw

90mm

33:1

20-120r/min

1000m/min

280m/min

60-200tex

4-10

176★

300kw

160kw

3500x3700x3000

28000

ZD-SPL-100/30/1100

350kg/h

90kw

100mm

30:1

20-120r/min

1100m/min

280m/min

60-200tex

4-10

192★

320kw

170kw

3400x3700x3000

30000

ZD-SPL-120/30/1500

490kg/h

160kw

120mm

30:1

20-120r/min

1500m/min

280m/min

60-200tex

4-10

256★

400kw

210kw

3700x3900x2600

32000
QL SERIES

Diameter of
screw(mm
L/D ratio of
screw
Rotational speed
of screw(r/min)
Width of
Die(mm)
Motor power
of extruder(kw)
Heating power
of extruder (kw)
Power of driving
Motor(kw)
Heating power
of the oven(kw)
Thickness of
 tape(mm)
Capacity
(kg/h)
Drawing speed
(m/min)
Installing dimensions
(L×W×H)(mm)

Weight(kg)

QL-FS110/800B

110

24:1

20-80

800

30

36

7.5

15

0.025-0.08

50-100

20-150

13300×1500×2000

6500

QL-FS120/1000B

120

24:1

20-80

1000

30

43

7.5

20

0.025-0.08

60-120

20-150

14700×1750×2000

8000

QL-FS120/1200B

120

24:1

20-80

1200

30

47

7.5

24

0.025-0.08

70-140

20-150

16200×2050×2000

10000

QL-FS135/1600B

135

26:1

20-70

1600

37

77

11

30

0.03-0.08

90-180

20-150

16800×2600×2000

16000

QL-FS135/1800B

135

26:1

20-70

1800

45

80

11

30

0.03-0.08

100-200

20-150

16800×2950×2000

17000

QL-FS140/2000B

140

26:1

20-70

2000

45

86

11

30

0.03-0.08

110-220

20-150

20000×3200×2000

20000

QL-FS150/2200B

150

26:1

20-70

2200

55

86

11

30

0.03-0.08

120-260

50-150

22000×3700×2000

21500

QL-FS150/2400B

150

28:1

20-65

2400

55

92

11

32

0.03-0.08

140-280

50-150

22000×4000×2000

23000

QL-FS160/2600B

160

28:1

20-65

2600

75

96

15

32

0.03-0.08

140-300

50-150

23000×4400×2500

24500

QL-FS160/2800B

160

28:1

20-65

2800

75

106

15

34

0.03-0.08

160-320

50-150

23000×4600×2500

25000

QL-FS160/3000B

160

28:1

20-65

3000

90

106

15

34

0.03-0.08

160-340

50-150

24000×4800×2500

26500

QL-FS170/3200B

170

28:1

20-65

3200

90

112

15

36

0.03-0.08

180-350

50-150

25000×5000×2500

27500

QL-FS170/3500B

170

28:1

20-65

3500

110

118

15

36

0.03-0.08

200-360

50-150

25000×5200×2500

29000
Cam Type Winding:
Item/Type

Layer




number




of spindle

Number




of




spindle

Width




of tape




spindle

Linear Speed




of tape




winding

Power of




main




motor

Power of




winding




motor

Installing dimensions




(LxWxH)

weight

ZD-STL-II/150

5

150

200

30-160

2.2

7

4700x1500x1700

2800

ZD-STL-II/170

5

170

200

30-160

2.2

8

5200x1500x1700

3000

ZD-STL-II/190

5

190

200

30-160

2.2

9

5700x1500x1700

3400

ZD-STL-II/240

5

240

200

30-160

3

11

7000x1500x1700

4200

ZD-STL-II/300

5

300

200

30-160

3

14

8500x1500x1700

5300

ZD-STL-II/380

5

380

200

30-160

3

17

10500x1500x1700

6600

ZD-STL-II/420

5

420

200

30-160

3

19

11500x1500x1700

7300

ZD-STL-II/480

5

480

200

30-160

3

22

13000x1500x1700

8100