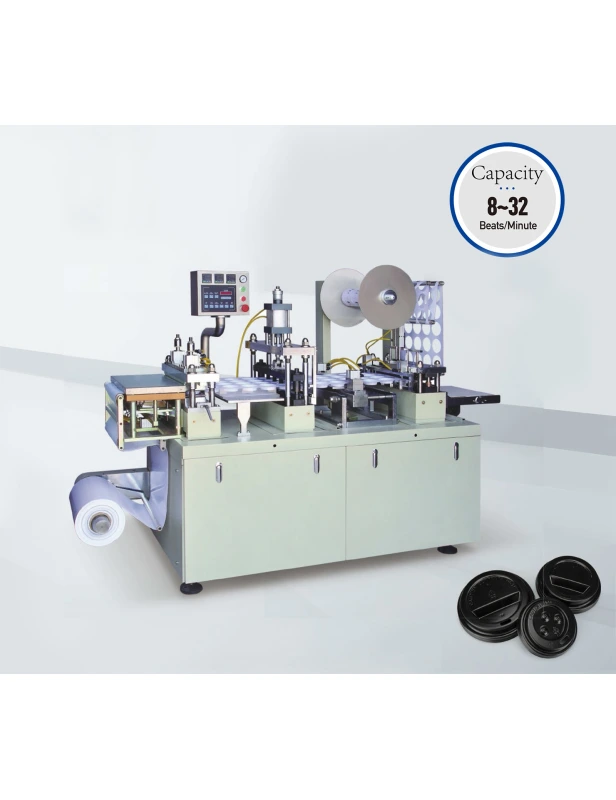 Plastic Lid Forming Machine
Modern technology and straightforward operation guarantee the plastic cup lid's production quality. Forming, punching, more punching, fully automatic transportation, and other steps have all been taken during the entire production process. Plastic sheets are formed into plastic cup lids of different sizes and shapes using the plastic lid forming machine (also known as the cup bowl lid making machine). A paper cup maker, a paper bowl maker, etc. can be paired with the plastic cover maker.
The BOPS, HIPS, PS, PVC, PET, PLA, and other plastic sheet moldings are processed by the plastic bowl cup making machine in large quantities. It is a production tool for plastic packaging products with multiple uses. For instance, plastic milk tea covers, coffee covers, cake boxes, oral liquid trays, and many other products.
An automatic integrated thermoforming machine creates plastic cup lids. It is capable of completing each step of feeding, heating, forming, punching, and punching all at once. The die-cut sheets are collected by a recycling device, and the die-cut lids are then collected by conveying. Thermoforming is used to create the pattern on the sheet from the mold.
Plastic Lid Forming Machine
Parameter

Model

420

420s

Max Forming Area

410x150mm

410x320mm

Material

0.15-0.55mm(HIPS,PET,PS,PCS,PVC)

Film Width

Max Reel Width:430mm

Max Reel Width:430mm

Punching Speed

8~32 Beats/minute

8-30 beats/minute

Max Forming Depth

30mm

55mm

Move Stroke Rage

30-160mm

30~160mm

Power

4.6KW

6KW

Power Source

380V 3-phase 50Hz

Weight

GW/NW: 1000KGS/800KGS

1200KG/1000KG

Pack Size

2300X1000X1900mm

2450x1000x2000mm

Needed Water Source

Water Pressure: 0.2MPa; Water-input: 0.3M3/Hour

Needed Air Source

Air Pressure:0.5-0.7 MPa; Air input: 20.2m3/minute

Need to buy Air Compressor