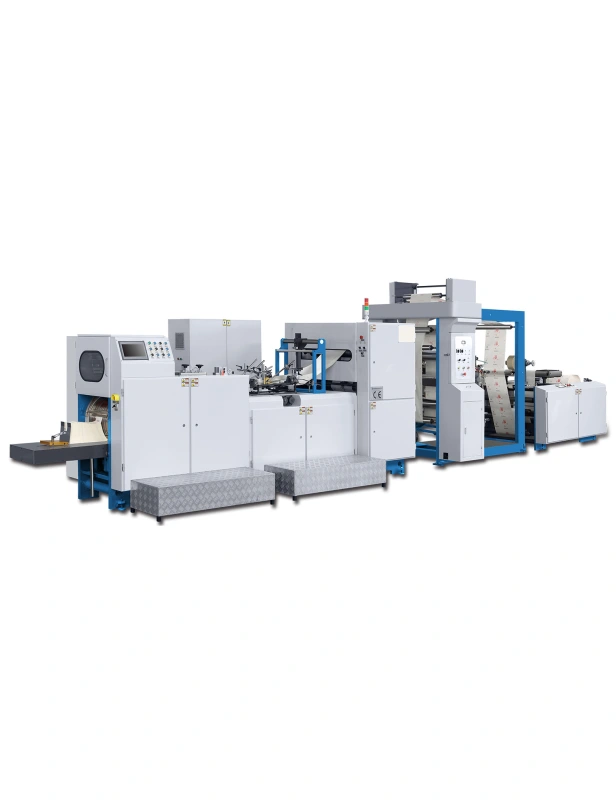 V Bottom Paper Bag Machine
1. V bottom paper bag are widely use in fast food store, very high consumption. This is fully automation V bottom paper bag making machine. form paper roll to well collected bags.

2. Touch screen interface and pneumatic paper roll lifting system, easy and efficient.

3. Servo motor, photoelectric tracking, auto calibration insure the precision.

4. Auto magnetic tension control system.

5. Safety protection system.
| | |
| --- | --- |
| | |
| Servo Motor | Puncture |
| | |
| Snap | Film |
Process: 

Product: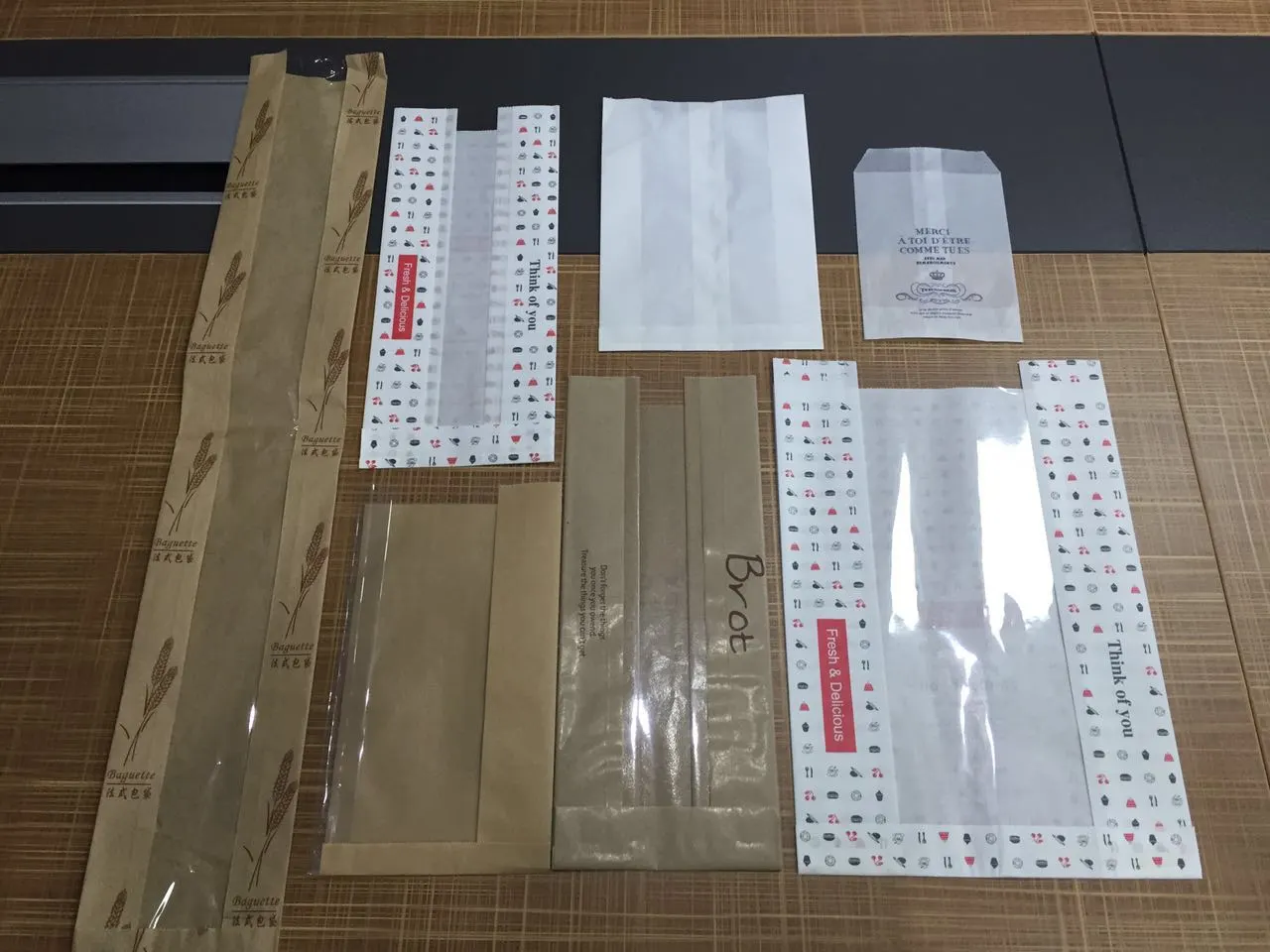 Main technical parameters:
| | | |
| --- | --- | --- |
| Model | C330. | C270 |
| Paper Thickness Range | 30-100g | 30-100g |
| Paper Bag Width Range | 80-330mm | 80-270mm |
| Paper Bag Length Range | 120-720mm | 120-400mm |
| Side Folding Range | 0-60mm | 0-60mm |
| Production Precision | ±0.2mm | ±0.2mm |
| Machinery Speed | 150-500 pcs /min | 150-500 pcs /min |
| Maximum paper roll Width | 1000mm | 900mm |
| Maximum Paper roll Diameter | 1200mm | 1200mm |
| Total Power | 16 KW | 16 KW |
| Machine Weight | 5500KGS | 5500KGS |
| Machine Color  | White or other | White or other |
| Machine Size | 7700*2000*1900mm | 7300*2000*1850mm |
Machine Main Parts List:
Name

QTY

Original/Brand

PLC

1

SCHNEIDER

Touch screen

1

SCHNEIDER

Puncture Servo motor

1

SCHNEIDER 

Traction Servo motor

1

SCHNEIDER 

Snap Servo motor

1

SCHNEIDER 

Press Servo motor

1

SCHNEIDER 

Bottom fold Servo motor

1

SCHNEIDER 

Color mark tracking photo-sensor

1

 

Germany  SICK

Edge control system

1

PAUSOURCE

Magnetic powder brake

1

Zhejiang

Cylinder

2

Zhejiang

Forming plate

1

As per customer required

Low-voltage apparatus

1

SCHNEIDER

Bearing 

HeNan

Hot 

melt Machine

1

ROBATECH
Spare Parts List
No.

Name

Size

Qty

Remark

Picture

1

Cutting

500×14.5×0.3

6 pcs.

puncture

2

Cutting blade block

140

、

200

、

290

、

325

2pcs each

puncture

3

Circular Cutter

19×15.32×0.3

8 pcs.

puncture

4

Single Tooth Timing Belt

8M×1152×40

2 pcs.

puncture +bottom fold

6

Single Tooth Timing Belt

5

Single Tooth Timing Belt

8M×960×40

7

Single Tooth Timing Belt

8M×1080×40

1 pcs.

Mainly Traction

8

Single Tooth Timing Belt

8M×912×40

1 pcs.

Snap

9

Single Tooth Timing Belt

8M×1056×50

1 pcs.

Mainly Traction

10

Single Tooth Timing Belt

8M×1456×50

1 pcs.

Hub

11

Single Tooth Timing Belt

5M×390×20

1 pcs.

Bottom glue

12

Single Tooth Timing Belt

5M×1100×30

1 pcs.

Feeding

13

Single Tooth Timing Belt

5M×2650×30

1 pcs.

Feeding

14

Single Tooth Timing Belt

5M×490×30

1 pcs.

Assist feeding

15

Flat Belt

28×1.5×10000

1 pcs.

Inside feeding

16

Flat Belt

28×2×8000

1 pcs.

Broad feeding

17

Round feeding belt

Φ5×10000

1 pcs.

Hub feeding

18

Forming plate

140;200;290

1set each

As per customer required

19

Plate block

High 20;30

1set each

Forming

20

Hub presser

340×26.5×1.2

4 pcs.

Material: SK2 carbon tool steel δ1.2

21

Bottom fold cuter

340×33×1

2 pcs.

Material: spring blade δ1

22

Bottom gluer

340×30×3

2 pcs.

Aluminum profiles 30 × 3

23

Snap block

340×24.4×12

4 pcs.

Red rubber

24

Bottom glue side block

Nylon

2 pcs.

Bottom glue

25

Feeding roller

Rubber

4 pcs.

Forming

26

Hot machine

1 pcs.

27

belt glue

1bottle

28

Toolkit

1 pcs.

a set of tools

29

screws and springs

some

Based on the equipment