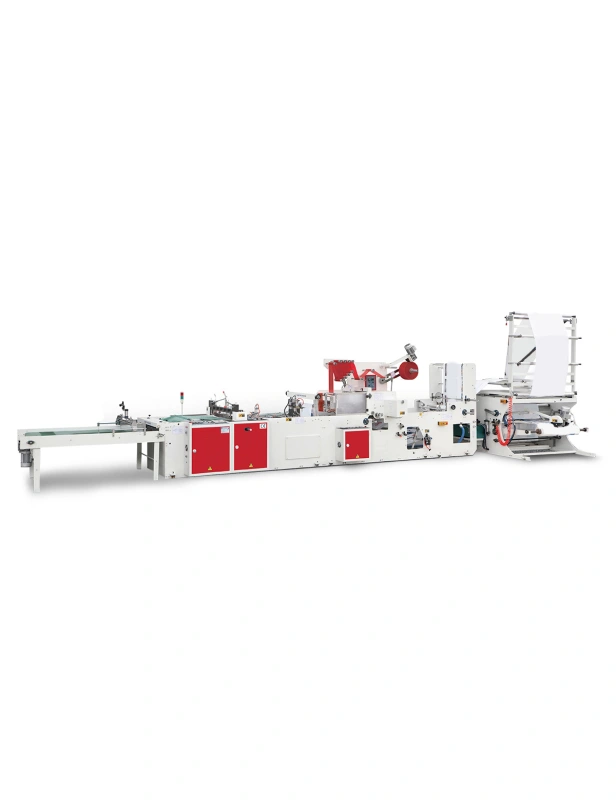 Biodegradable Shopping Bag Making Machine
Automatic High Speed Inside Glue Patch Handle Bag
B
iodegradable
S
hopping
B
ag
M
aking
M
achine
Automatic High Speed Inside Glue Patch Handle Bag
1. Single sheet film folding unit (hydraulic auto loading
device
)
2. Double sealing knife device
3. Bottom sealing knife device
4. Triangle folding device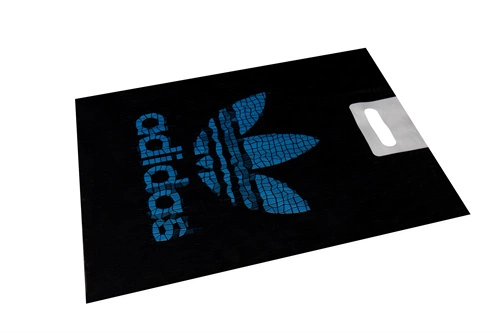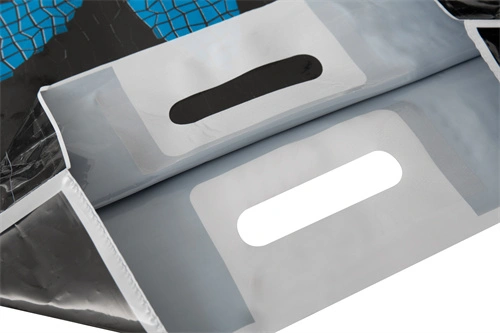 DCSZ-
800NJT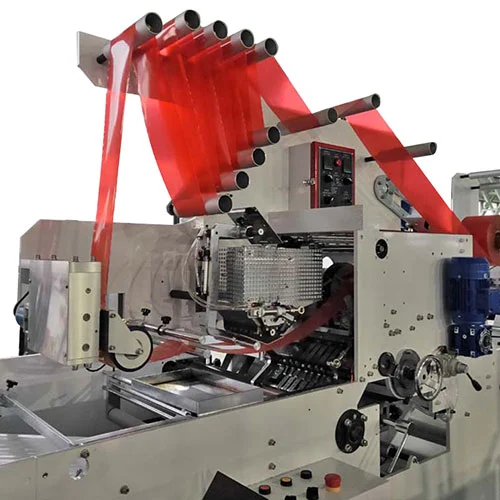 Technical Parameter:

Mod

el:

DCSZ

-800NJT

DCSZ

-800NJT+W

Optional Equipment

Length of bag-making

750mm

750mm

+W Wicket type collect

Width of bag-making

600mm

600mm

Speed of bag-making

80-130pcs/min

100-180pcs/min

Line speed

60m/min

80m/min

Bottom gusset

30-80mm

30-80mm

Width of the patch film

145mm

145mm

Total Power

16KW

28.6KW

Machine Weight

3500KG

4350KG

Machine Dimension [LxWxH]

11000 X1900 x2600mm1400

1400X1900 x2850mm

Air compressor [not included]

6HP

7.5HP
Options:
wicket collect unit 
Feature
s
:
1. Flexible glue pasting patch film feeding system, fully automatic (PATENT)
2. Pre-sealing knife, heated on double sides and strong for fusing, to make the bags without deformation
3. The best quality of Italian side sealing knife, Heated to high temperatures not deformation
4.Newly design of sealing knife top lift and turn over system
5.Its designed by heating punching and it's easy to cut off, the waster is excluded automatically.
Unwind:
1.Unwind
 unit
 adopts hydraulic lifting device,max.diameter of the unwinder is 900mm.
2.Adopts AC frequency motor driving constant tension control,feeding speed is according to the producing speed.
3.Unwinding shaft adopts heavy-chain air shaft.
4.Unwinding device adopts 1600mm triangle folding device, which can be adjustable.
5.Unwinder part has the EPC.
Gluing Patch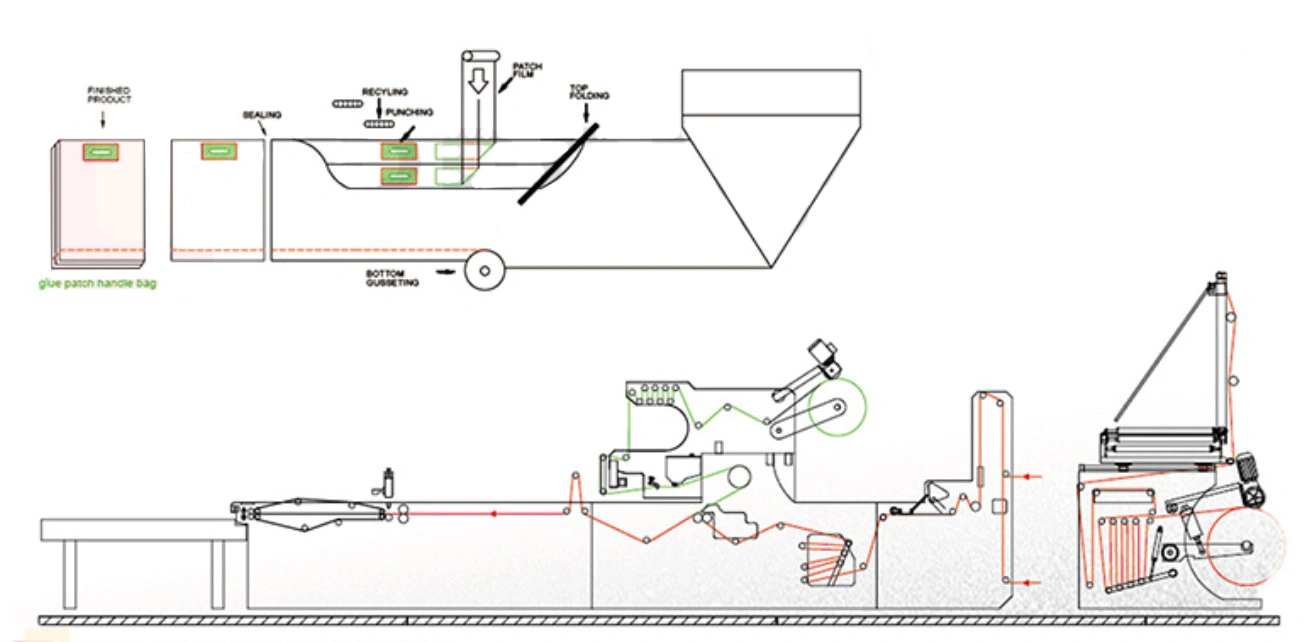 1.Patch Film is driven by the host linkage. Gluing,slitting,cutting to sticking,it accomplishes with high speed automatically and at one go.
2.Patch film unwinder is driven by AC motor,initiative unwinding,full automatic constant tension control.
3.Patch film with EPC tracking
4.High rigidity white steel spot cutter
5.Gluing roller is driven by motor,individual adjusting
6.Quantity of gelatinizing is adjustable,
d
ed
ucing producing cost,high capacity.
7.Gluing mode: hot-melt glue device
Handle Part:
1. Handle hole adopts heat punching mould design,easy cutting (cold puncher for optional purchasing)
2. High rigidity puncher,it is easy to maintain mould.
3.Waste film at the puncher is dropping automatically,have locker to collecting the waste film.
4.Puncher size: 20×90mm 
Photocell and pre-heating device: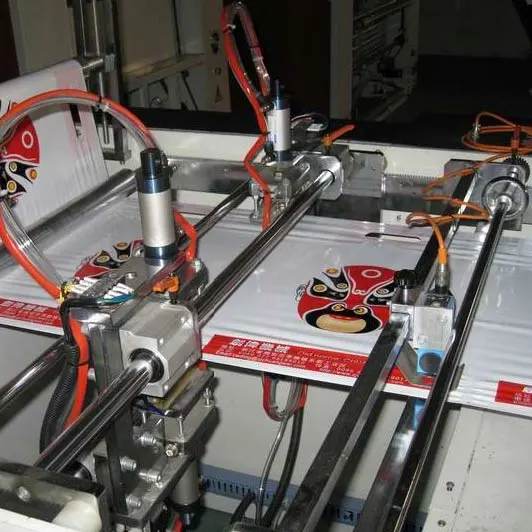 1) Printing Image Tracking adopts SICK-Germany photocell,zero malfunction,sealing and cutting correct.
2) The pre-sealing knife is designed specially with embossed four layers to strengthen the sealing part.
3) Double side heating,double cylinder driven,strong for fusing,and strong for sealing.
Side sealing Part:
1. side sealing knife principal axis transmission belt cylinder lifting and down.
2. Side sealing knife with water cycle cooling system.
3. Turnover heavy-side sealing knife,humanism structure,turn fast,easy for cleaning.1.
Convey collect device:
1. Collect table adopts automatic collecting bag feeding (Intermission mode)
2. When the bag reaches to a certainty quantity,collect table will move automatically,and
continues
 producing.
3. Collect table is driven by AC motor with
i
nverter
 control
.